---
News & Information
---
A successful day for Walking the Walk!
A huge thank you to everyone who turned out on Sunday for Walking the Walk – what a great day, despite the grey weather! We had over 120 walkers supporting 4 amazing charities, thank you all for your enthusiasm, laughter, time and energy. Here are a few pictures from the day, more can be found on our facebook page.
If you have sponsor money to submit to Scarborough & Ryedale Carers Resource there are a number of ways you can do it:
1.Use the 'make a donation' button on this website to transfer funds via Paypal (find a link in the right hand column of this page)
2.Send a cheque to Scarborough & Ryedale Carers Resource, 96 High Street, Snainton, Scarborough, YO13 9AJ (Cheque payable to Scarborough & Ryedale Carers Resource)
3.By hand to the office if you are passing – either cash or cheque
4.If you have online banking, make a payment to us directly, ring the office 01723 850155 for details.
Once again, thank you to all walkers and marshalls for your input on the day – we really appreciate your support.
We would also like to thank Scarborough Lions, Scarborough Hospitality Association, Raven Hall Hotel, Bookers and McDonalds for their support and donations – we couldn't have done it without you!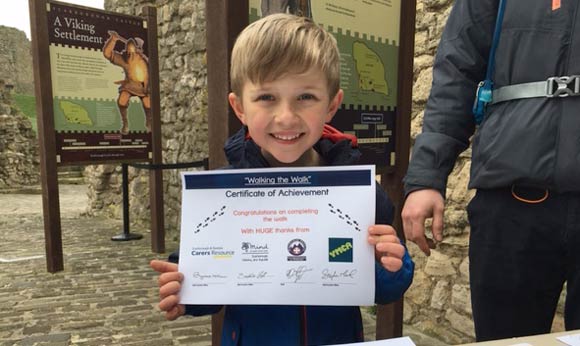 The youngest walker (only 5 years old!)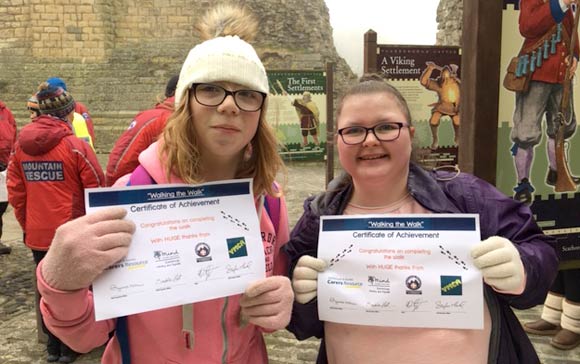 Made it at last!
Carers receive High Sheriff's award
We were fortunate to receive a visit from the High Sheriff of North Yorkshire along with his successor for the coming year. Three local carers were honoured to receive this special award, please watch the video for the full story.
Rotary Award
Whitby Endeavour Rotary recognise Carers Resource worker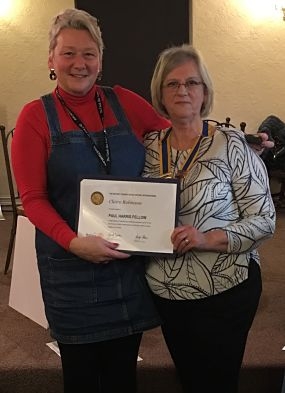 Congratulations and well-deserved recognition to Claire Robinson, Development Manager at Scarborough & Ryedale Carers Resource. Claire first came to the organisation as a Young Carer Support Worker and it is her achievements in this role that have been recognised.  Whitby Endeavour Rotary presented Claire with the Paul Harris Fellowship Award at their meeting on 14 November 2018 to commend her work with Young Carers and the contribution to the community.

The Paul Harris Fellowship is one of the highest honours Rotary can bestow on a person. Recipients are members of the Rotary and community professionals recognised for their outstanding contribution to the community exemplifying the highest ideal in Rotary of Service above Self. 
Caring with Confidence
If you're an adult and care for someone, this course is for you.  Dates for future courses will be posted here when they are confirmed.  For an overview of what the course covers see the link below for details on each of the sessions, though please note the dates are no longer valid.
Click here for leaflet CwC Ryedale leaflet 2018.pdf (333.4KB)
Carers & Employment
How you can support carers in your work place or gaining employment. 
Carers and Employment Factsheet.pdf (349.3KB)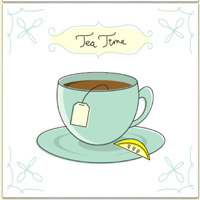 Carers Cuppa & Wellbeing Group
Drop in for a chat and a cuppa, share ideas of how to unwind. Time to rest and relax, have some quality time for yourself.  A Support Worker will be on hand to answer any questions.
Pickering Cuppa and Wellbeing Group
Venue: Friends Meeting House, Pickering
The Cuppa Club is usually the third Wednesday of every month from 10am-12noon
If you would like more information please contact the office on 01723 850155 
or e-mail staff@carersresource.net
---
Focus Carer Newsletters
---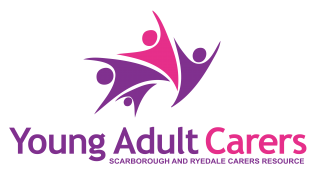 Steering Group Dates 2019
The Young Adult Carer Project is advised by a steering group made up of professionals from other organisations  
All meetings held 10.30 - 12 noon in the Boden Room, Stephen Joseph Theatre, Scarborough
14th June, 20th September, 13th December
If you are an interested professional and would like to join us please contact David on 01723 850155 or david@carersresource.net
---
---