---
News & Information
---
Working for Carers Resource
Young Adult Carer Activity Worker 
22.5 hours per week
Salary £19,613 fte - (pro rata for 22.5 hrs £11,927)

We are looking for someone to work with Young Adult Carers (aged 16-25), with experience of developing and setting up a social group and activities. The aim for the club to be eventually managed and led by the young adult carer volunteers. Experience of recruiting and supporting volunteers identified from within the social group will be an essential part of the role to enable long term sustainability of the group.
Find more information and an Application Pack [here]
Young Carers Awareness Day
Count Me In!
We are supporting the Carers Trust Count Me In! campaign which is calling on schools to do more to proactively identify young carers and to ensure that they receive the recognition and support they deserve.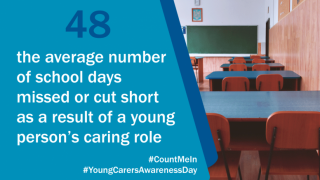 The Young Carers team from Scarborough & Ryedale Carers Resource will be visiting schools in the the area this week to spread the word that there is support available.  We will be bringing 'pop-up' stands of information to school corridors and reception areas.  Look out for us if you're a young carer or know someone who is - we're here to help.
Lots of local schools have already received notice board packs and are sign posting to the Young Carers service via school notice boards, websites or their social media. We are working with schools to be present at parents evenings with a number booked in for February & March. We have already offered a SEN parents drop in with Braeburn school and on Young Carers Day itself a pupil from St Martins C of E Primary is raising money for Scarborough & Ryedale Carers Resource by hosting a casual clothes day, supported by the school. We have lunch time hubs also booked this week at Lady Lumley's and Norton College.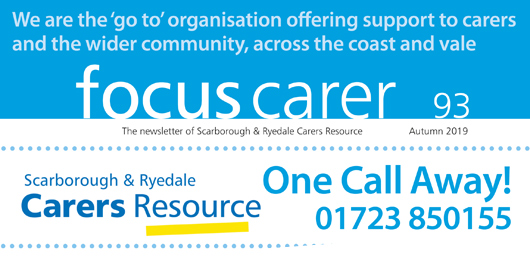 Focus Carer - Autumn 2019
Download a pdf copy of our Autumn 2019 Newsletter
This edition of Focus carer introduces and updates you on the services provided by Carers Resource to carers and others - the Adult Carer Service, Young Adult Carers and the Young Carers Service - Home from Hospital, Action Towards Inclusion and My Neighbourhood. Download a copy here.  
Focus Carer Autumn 2019.pdf (5.6MB)
Working with Eastenders
SRCR were delighted to be part of the team advising on script development for the recent young carer's story line on EASTENDERS.  It was a privilege to be part of this work and a huge thanks must go to the 'Team Eastenders' for getting it right on screen, and raising the profile of the challenges young carers face.   Our work on this couldn't have come at a better time following the NHS announcements last week regarding the increased support for young carers through GP's surgeries.  Click the link below to read more. 
NHS sets out 'care for young carers'offer in GP surgeries 
Caring with Confidence is back!
Starting 27th June and every fortnight until January 2020
These FREE sessions are for family carers to have some much needed time out of their busy caring role and focus on themselves.  Covering all sorts of subjects from a meal out and theatre trip to learning basic first aid or communicating effectively.  You can attend as many or as few as you like, but you must book a place.  Do do this please ring the office 01723 850155
Video: Yorkshire Coast Radio meets the Carers Resource team
Note: The autoplay attribute does not work on some mobile devices.
Scarborough & Ryedale Carers Resource is proud to be supporting and improving the lives of Carers 52 weeks a year, but on this special week, we are delighted the national spotlight is helping us raise awareness of the hidden army of carers who support their family and friends through challenging times.
Please take time to click on the video link above to meet our team - without them over 2500 carers per year across the Coast and Vale would not benefit from their support, knowledge and experience.
If you are a carer and would like to find out more - pick up the phone 01723 850155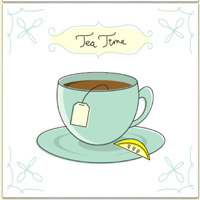 Carers Cuppa & Wellbeing Group
Drop in for a chat and a cuppa, share ideas of how to unwind. Time to rest and relax, have some quality time for yourself.  A Support Worker will be on hand to answer any questions.
Pickering Cuppa and Wellbeing Group
Venue: Friends Meeting House, Pickering
The Cuppa Club is usually the third Wednesday of every month from 10am-12noon
If you would like more information please contact the office on 01723 850155 
or e-mail staff@carersresource.net
---
Carers & Employment
How you can support carers in your work place or gaining employment. 
Carers and Employment Factsheet.pdf (349.3KB)
Focus Carer Newsletters
---
---