---
News & Information
---
2020 AGM
This year's AGM will be held virtually on Zoom
Wednesday 7th October at 10am for no more than 1 hour.  We would love you to join us to find out what's been happening at Carers Resource over the last year.  The event will comprise a short business meeting followed by the launch of the organisation's new 5 year Business Plan and an update on our entry in this year's Parliamentary Review. 
Please send us an email to receive the Zoom link and the relevant papers for the meeting.  Send your email to staff@carersresource.net and include your full name, postal address and telephone number.  We will then send you the Zoom link by email and various documents relating to the meeting by post.
Elizabeth and Alex's Sky Dive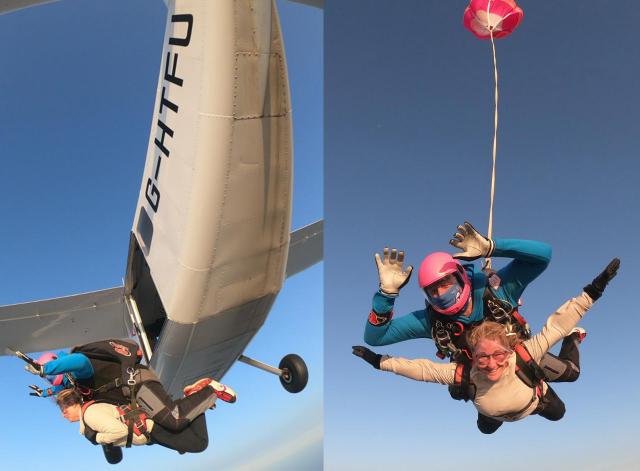 Elizabeth leaps into space!
It goes to show how passionate our Chief Officer is about Scarborough & Ryedale Carers Resource when she offers to throw herself out of a plane to raise awareness of carers issues.  Elizabeth and her niece Alex bravely took on the challenge of a tandem sky dive from 10,000 feet.
After two false starts – one due to lock-down, the second to too much wind (not Elizabeth's she assured us) – the day of reckoning came at last.  Alex was so excited she couldn't stop talking, Elizabeth so nervous she struggled to say anything!
Once in the plane there was no going back and up at 10,000 feet there's only one way down.  The instructors gave no time for last minute reservations, the door opened and they were out.  Watch the video here to share the excitement.  Wow – what an experience!  Who's up for another go?  Alex – definitely, Elizabeth – 'never again!'
Thanks to the brilliant staff at Skydive GB for their expertise, reassurance and professionalism. 
It's not too late to show your appreciation for this amazing achievement, please donate to Scarborough & Ryedale Carers Resource through JustGiving here.
https://justgiving.com/fundraising/elizabeth-mcpherson-alex-kent 
Watch Elizabeth's Skydive... 
and watch Alex's Skydive here... 
and some photos... 
Make a donation...
https://justgiving.com/fundraising/elizabeth-mcpherson-alex-kent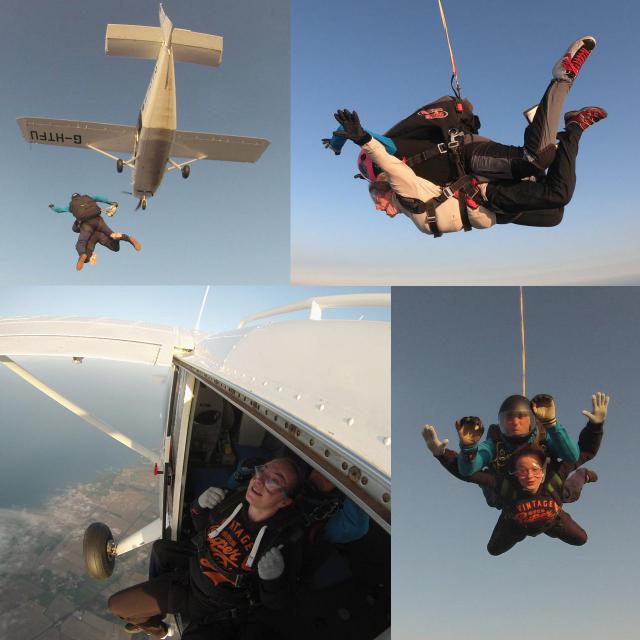 Clockwise: Taking the leap; Elizabeth and Alex
Make a donation...
https://justgiving.com/fundraising/elizabeth-mcpherson-alex-kent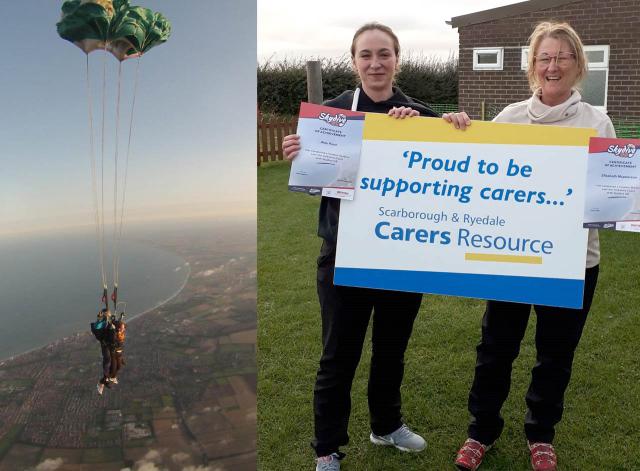 The very brave Alex and Elizabeth back on solid ground.
Make a donation...
https://justgiving.com/fundraising/elizabeth-mcpherson-alex-kent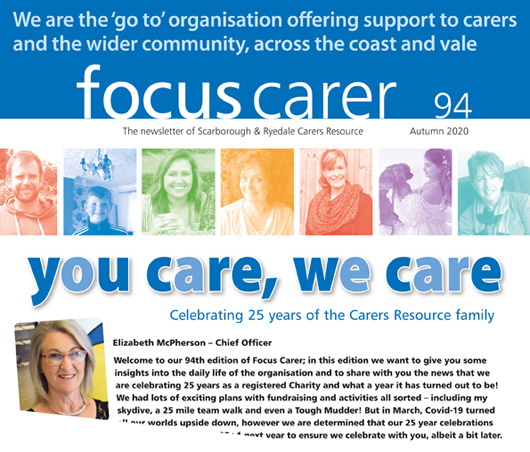 Focus Carer - Autumn 2020
Download a pdf copy of our Autumn 2020 Newsletter
Edition 94 of Focus Carer celebrates the 25th Anniversary of Scarborough and Ryedale Carers Resource. This 16 page magazine traces the organisation's journey from a portacabin in a Malton car park to it's current Snainton based offices with 6 services supplying support to carers of all ages as well as other social groups in need of assistance.
Focus Carer Autumn 2020.pdf (8.3MB)

Vacancy at Carers Resource...
Young Adult Carer (YAC) Support Worker Fixed term – July 2022
We are looking for a skilled worker to join Scarborough and Ryedale Carers Resource to support Young Adult Carers (YACs) who are aged between 16 and 25 years of age. Support will include working 1-2-1, (face to face and virtual contacts), offering advice on education, training and employment options, activities and group work. You will need to have a good understanding of carers issues, as these will have an impact on YAC's already coping with lots of emotions/practicalities around their own personal identity and independence. 
Find out more and download an Application Pack here...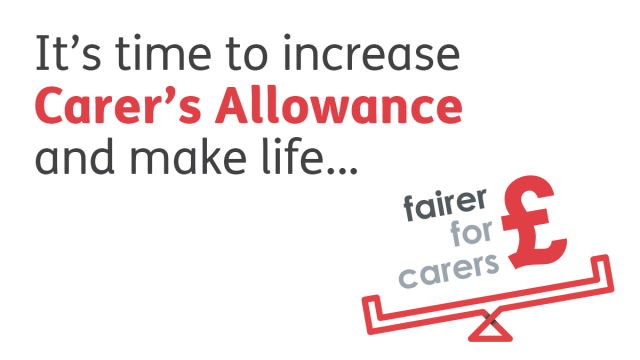 #FairerforCarers Campaign
Open Letter to Government to make Carers Allowance fairer
Carers UK and 91 organisations representing unpaid carers, older people, disabled adults and children have joined together to call on the Work and Pensions Secretary to recognise the financial impact Covid-19 has had on people caring round the clock for family members and friends.
The open letter, sent today to the Work and Pensions Secretary, Rt Hon Therese Coffey MP, and Chancellor, Rt Hon Rishi Sunak MP, calls for better financial support for unpaid carers who have faced rising costs during the pandemic. 
See full press release from Carers UK here

Carers Week 2020 - Making Carers Visible
Monday 8th - Sunday 14th June, 2020
This year people in the UK are facing new challenges as a result of the coronavirus. Many are taking on more unpaid caring responsibilities for their relatives and friends who are disabled, ill and who are in need of support.
We are passionate that all carers are recognised and respected for the difficulties they are experiencing and are provided with information, support and understanding.  Take a look at these 2 video clips demonstrating the strength and dedication shown by carers everywhere
Other Events
My Neighbourhood Book Club - runs every 3 weeks online or by phone. The book being reviewed at the moment is The Librarian by Sally Vickers. Please contact Bernie if you would like to join us.
Young Carers Awareness Day
Count Me In!
We are supporting the Carers Trust Count Me In! campaign which is calling on schools to do more to proactively identify young carers and to ensure that they receive the recognition and support they deserve.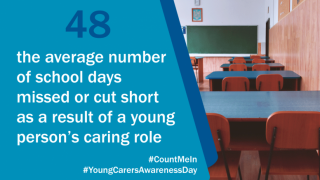 The Young Carers team from Scarborough & Ryedale Carers Resource will be visiting schools in the the area this week to spread the word that there is support available.  We will be bringing 'pop-up' stands of information to school corridors and reception areas.  Look out for us if you're a young carer or know someone who is - we're here to help.
Lots of local schools have already received notice board packs and are sign posting to the Young Carers service via school notice boards, websites or their social media. We are working with schools to be present at parents evenings with a number booked in for February & March. We have already offered a SEN parents drop in with Braeburn school and on Young Carers Day itself a pupil from St Martins C of E Primary is raising money for Scarborough & Ryedale Carers Resource by hosting a casual clothes day, supported by the school. We have lunch time hubs also booked this week at Lady Lumley's and Norton College.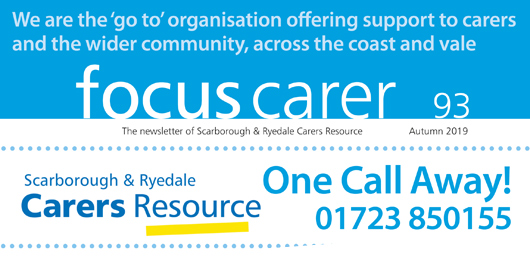 Focus Carer - Autumn 2019
Download a pdf copy of our Autumn 2019 Newsletter
This edition of Focus carer introduces and updates you on the services provided by Carers Resource to carers and others - the Adult Carer Service, Young Adult Carers and the Young Carers Service - Home from Hospital, Action Towards Inclusion and My Neighbourhood. Download a copy here.  
Focus Carer Autumn 2019.pdf (5.6MB)
Working with Eastenders
SRCR were delighted to be part of the team advising on script development for the recent young carer's story line on EASTENDERS.  It was a privilege to be part of this work and a huge thanks must go to the 'Team Eastenders' for getting it right on screen, and raising the profile of the challenges young carers face.   Our work on this couldn't have come at a better time following the NHS announcements last week regarding the increased support for young carers through GP's surgeries.  Click the link below to read more. 
NHS sets out 'care for young carers'offer in GP surgeries 
Video: Yorkshire Coast Radio meets the Carers Resource team
Note: The autoplay attribute does not work on some mobile devices.
Scarborough & Ryedale Carers Resource is proud to be supporting and improving the lives of Carers 52 weeks a year, but on this special week, we are delighted the national spotlight is helping us raise awareness of the hidden army of carers who support their family and friends through challenging times.
Please take time to click on the video link above to meet our team - without them over 2500 carers per year across the Coast and Vale would not benefit from their support, knowledge and experience.
If you are a carer and would like to find out more - pick up the phone 01723 850155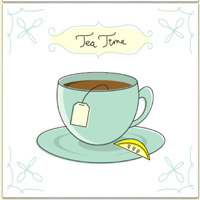 Carers Cuppa & Wellbeing Group
Drop in for a chat and a cuppa, share ideas of how to unwind. Time to rest and relax, have some quality time for yourself.  A Support Worker will be on hand to answer any questions.
Pickering Cuppa and Wellbeing Group
Venue: Friends Meeting House, Pickering
The Cuppa Club is usually the third Wednesday of every month from 10am-12noon
If you would like more information please contact the office on 01723 850155 
or e-mail staff@carersresource.net
---
Carers & Employment
How you can support carers in your work place or gaining employment. 
Carers and Employment Factsheet.pdf (349.3KB)
Focus Carer Newsletters
---
---