---
News & Information
---
Job Vacancy - Service Manager  
Fixed term initially for 18 months   
37 hrs per week (flexible working including evenings and weekends)
Salary: £30,347
Closing date for applications:  Thursday 25th June 12noon
Interviews will take place:   w/c Monday 13th July  
Carers Resource has an exciting new opportunity to expand our Senior Management Team. This is for 18 months initially with the aim to extend, funding permitting. We are looking for an experienced Service Manager with proven operational and leadership skills to join the team.
Find out more and download an Application Pack here...
Covid-19 
Information from NYCC regarding support for carers during this time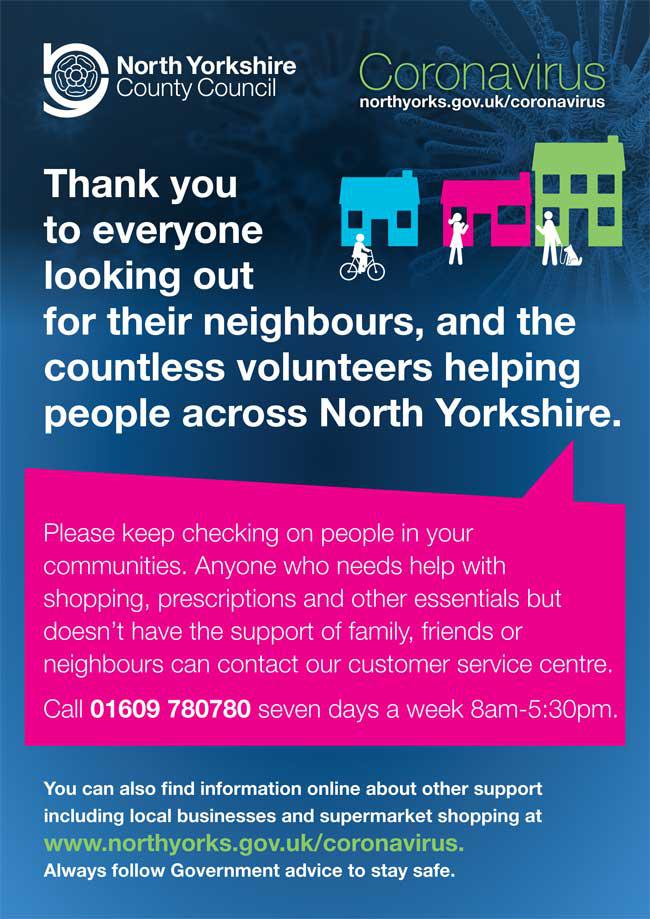 Supporting Carers
NYCC have issued these documents in relation to supporting carers through Covid-19.
NYCC Letter to Carers.pdf (201.1KB)
My_Coronavirus_Plan_B.docx (30.9KB)
Best_Practice_hand_wash.pdf (142KB)
Also useful - this guidance from central Government 
We are still open for referrals
Please call us on 01723 850155 or use one of these referral forms:
Initial Ref Form 18+.docx (34KB)
Initial Ref Form under 18 Young Carers.docx (34.5KB)
Please complete and return by email to staff@carersresource.net  
NYCC bring together a community response
Please see this information from NYCC regarding how they are coordinating volunteers to provide vital support in the local communities
NYCC Community Support.doc (691KB)
Update 24th March 2020
We are continuing to work hard to support as many of our service users as we can – staff are now working from home and contacting everyone individually by telephone to check how you are and if we can offer any more support.  We know emotional support is needed at this time now more than ever since we have to all self- isolate at home.   It can be a very lonely and worrying time, we are here to help you, so pick up the phone and contact us on 01723 850155 or send an email to staff@carersresource.net 

To any organisations that want to refer a young carer or adult carer or other vulnerable service user into our services we have changed our referral forms to make them as easy as possible to use please see the link to the forms. 
Initial Ref Form 18+.docx (34KB)
Initial Ref Form under 18 Young Carers.docx (34.5KB)
Message from the Chief Officer and Chair of Trustees                    17th March 2020
We are writing to you all regarding the current situation with the spread of Covid-19, we know this will and is causing concerns for yourselves and the persons you care for and for those living on their own.
 
SRCR will continue to provide on-going support for all our service-users over these challenging times.  Please be assured our office will remain open for telephone contact only by a small skeleton staff team, so we are always at the end of the phone.    We will be in regular telephone contact with our existing service-users, to help address immediate issues and offering emotional support over the coming weeks/months.
 
We will continue to accept all referrals - whilst we will not be able to undertake home visits or meet in our outreach provision, please be assured our staff are highly skilled and experienced in offering 'helplines'/support over the phone.  We already provide this service and it has been an exceptionally successful provision tried and tested in our daily work routines. 
 
We are looking at ways to continue to support patients discharged from hospitals through our Home from Hospital services to ensure we keep people safe and well, and they have the provisions they need once they get home.
 
SRCR's main priority is to stay in contact with our service users, especially if you need to keep yourself isolated at home.
 
We will be in contact with all service-users, partners and funders on a regular basis to ensure we keep everyone updated, informed and most importantly supported to the very best of our ability. 
 
Please stay safe and contact us, we are here to help 01723850155 or staff@carersresource.net
 
Elizabeth McPherson              Michael Hunt
Chief Officer                          Chair of Trustees  
All groups cancelled
Please note all our groups and activities are cancelled for the foreseeable future
Please keep an eye on this website and our social media pages for updates
Our support workers are working hard to provide telephone support as much as possible.  Please see the above notice from our Chief Officer and Chair of Trustees 
Young Carers Awareness Day
Count Me In!
We are supporting the Carers Trust Count Me In! campaign which is calling on schools to do more to proactively identify young carers and to ensure that they receive the recognition and support they deserve.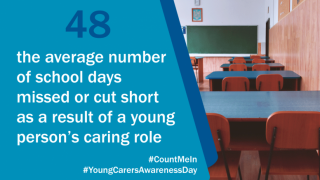 The Young Carers team from Scarborough & Ryedale Carers Resource will be visiting schools in the the area this week to spread the word that there is support available.  We will be bringing 'pop-up' stands of information to school corridors and reception areas.  Look out for us if you're a young carer or know someone who is - we're here to help.
Lots of local schools have already received notice board packs and are sign posting to the Young Carers service via school notice boards, websites or their social media. We are working with schools to be present at parents evenings with a number booked in for February & March. We have already offered a SEN parents drop in with Braeburn school and on Young Carers Day itself a pupil from St Martins C of E Primary is raising money for Scarborough & Ryedale Carers Resource by hosting a casual clothes day, supported by the school. We have lunch time hubs also booked this week at Lady Lumley's and Norton College.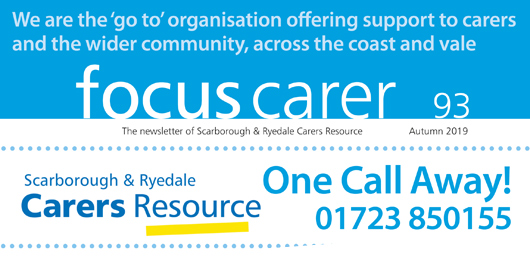 Focus Carer - Autumn 2019
Download a pdf copy of our Autumn 2019 Newsletter
This edition of Focus carer introduces and updates you on the services provided by Carers Resource to carers and others - the Adult Carer Service, Young Adult Carers and the Young Carers Service - Home from Hospital, Action Towards Inclusion and My Neighbourhood. Download a copy here.  
Focus Carer Autumn 2019.pdf (5.6MB)
Working with Eastenders
SRCR were delighted to be part of the team advising on script development for the recent young carer's story line on EASTENDERS.  It was a privilege to be part of this work and a huge thanks must go to the 'Team Eastenders' for getting it right on screen, and raising the profile of the challenges young carers face.   Our work on this couldn't have come at a better time following the NHS announcements last week regarding the increased support for young carers through GP's surgeries.  Click the link below to read more. 
NHS sets out 'care for young carers'offer in GP surgeries 
Video: Yorkshire Coast Radio meets the Carers Resource team
Note: The autoplay attribute does not work on some mobile devices.
Scarborough & Ryedale Carers Resource is proud to be supporting and improving the lives of Carers 52 weeks a year, but on this special week, we are delighted the national spotlight is helping us raise awareness of the hidden army of carers who support their family and friends through challenging times.
Please take time to click on the video link above to meet our team - without them over 2500 carers per year across the Coast and Vale would not benefit from their support, knowledge and experience.
If you are a carer and would like to find out more - pick up the phone 01723 850155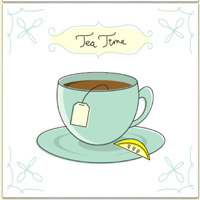 Carers Cuppa & Wellbeing Group
Drop in for a chat and a cuppa, share ideas of how to unwind. Time to rest and relax, have some quality time for yourself.  A Support Worker will be on hand to answer any questions.
Pickering Cuppa and Wellbeing Group
Venue: Friends Meeting House, Pickering
The Cuppa Club is usually the third Wednesday of every month from 10am-12noon
If you would like more information please contact the office on 01723 850155 
or e-mail staff@carersresource.net
---
Carers & Employment
How you can support carers in your work place or gaining employment. 
Carers and Employment Factsheet.pdf (349.3KB)
Focus Carer Newsletters
---
---