---
News & Information
---
A free 8-week Mindfulness Course
We warmly invite all Carers to join us for this free 8-week Mindfulness Course
Spending less time thinking about the past, or worrying about the future, and being kinder to ourselves can help us feel calmer, happier, and more resilient.
REST, RESTORE & REJUVENATE, TIME FOR YOU
April to June, Fridays
Via ZOOM 2.30 till 4.30pm
25 March at 2 pm for the Taster Session
With Claire Rodway and Neil Roberts
(Trained by Mindfulness Association)
Run by Scarborough & Ryedale Carers Resource
Limited places available, for further details contact:
Claire Rodway, Adult Carer Support Worker
Tel.01723 850155/07935217785
Email: claire.rodway@carersresource.net
Download more information about Mindfulness here...
Carer Survey
NYCC Survey – please help support Carers Services for the future by completing this survey, just follow the links.
If you are a person who supports and cares for a relative or friend who is living with a disability, long-term illness or has additional daily support needs, we would like to invite you to tell us about your experiences in this short confidential survey.
You can take part in the survey until 14 March 2021.
Unpaid carers play a vital role supporting loved ones in North Yorkshire and we would like to support you to keep well and connected. We know that unpaid carers have played a greater role than ever before in supporting people throughout the COVID-19 pandemic and we want to make sure that we listen to your experiences.
Your responses will help us to evaluate the delivery of support for carers and continue to learn from the experiences of carers in the county.
The survey should take about around 15 minutes to complete. Answers to the survey will be treated confidentially and reported anonymously.
If you want to talk to someone directly about your experience as a carer please Contact Us or contact a Carers' Resource Centre. If you have any questions about the survey, please contact Sally Anderson at North Yorkshire County Council at sally.anderson@northyorks.gov.uk
Privacy Notice
A copy of our Privacy Notice can be found here.
You can find out more information about help for you during coronavirus here.
Adult Carer Support Worker
With a focus on Carers who are Veterans of our Armed Forces
22½ hours per week
Flexible over 3-4 days a week
Fixed-term for 2 years
Salary £21,000 - (pro rata for 22½ hours £12,770)
We are looking for an experienced support/advice worker who is dynamic and proactive in their approach to supporting adult carers 18+ who are either a Veteran themselves or care for someone who is a Veteran.
Find out more and download an Application Form - click here

Join our Fairer for Carers campaign
Join us in calling for Carer's Allowance to be made #FairerForCarers by writing to your MP today!
Carers UK is calling for Government to urgently act to address the financial hardship that many unpaid carers face due to their caring responsibilities.
Ahead of Budget 2021 on 3rd March, we are calling on the Chancellor, Rishi Sunak MP, to award a £20 a week supplement to carers with an entitlement to Carer's Allowance, helping carers to manage the higher costs of caring during the COVID-19 pandemic.
Our latest campaign action, launching today (Wednesday 10th February 2021), is a chance to raise awareness of our campaign. Please support us by clicking the link to add your support to the campaign. The action will close on 3rd March.
You can find the link to the action by clicking here:
https://carersuk.e-activist.com/page/75733/action/1?ea.tracking.id=pr-aff
Carer's Allowance, the main benefit for people caring unpaid for family or friends, remains the lowest benefit of its kind at £67.25 per week (2020/21 rates). The low level of the payment and other entitlement conditions, including an earnings limit, means it continues to be ineffective in stopping financial hardship.
On April 12th, Carer's Allowance is set to rise by just 35p a week, in line with inflation, taking the new rate to £67.60 a week – a maximum of 1p extra for each hour of care provided. This is simply not good enough.
The Government urgently needs to give back to carers; without this help, many will continue to face real financial hardship.
.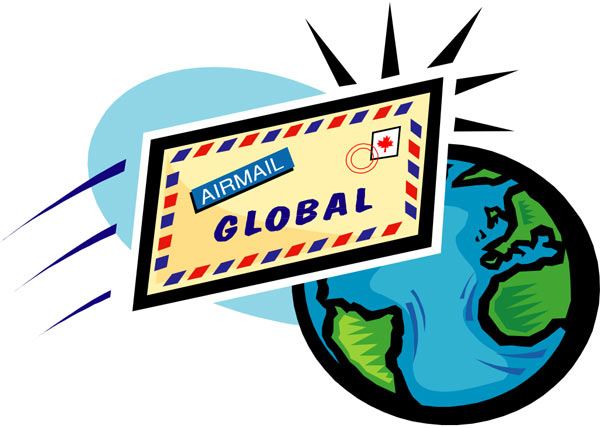 We're launching an exciting overseas Penpal scheme for adult carers
Scarborough & Ryedale Carers Resource and Carers Western Australia, Perth, are working to link carers together with this free penpal scheme.
With lock down restrictions, a lot of carers maybe feeling the strain more than usual as well as isolation from friends and family. Scarborough & Ryedale Carers Resource (SRCR) have a fantastic free international carers penpal scheme.
Together SRCR and Carers Western Australia, Perth have expanded on their very successful links and are now offering a penpal scheme for unpaid adult carers as well as young carers.
We know that linking to other carers who may be in similar situations can bring some real positives. Having common ground and someone who can empathise and understand some of the difficulties that can arise from caring can really help. Its great to get something nice in the post too!
Click here to download a pdf flyer with all the details.
Or contact us on 01723 850155, or by email at: staff@carersresource.net
Carers Resource - Supporting you throughout the Lockdown period
Following the Government's announcement this week we wanted to reassure everyone that we remain open and are ready to support you throughout the lockdown period. We have all learnt so much over the previous 10 months and I am confident we can work through these challenging times yet again. The team are here to support both carers and the wider community with a full range of services - so please don't feel alone at this time.
Please call us and see if we can help to make these challenging times a little easier. Whilst 'Hands, face and space' will keep us all a little safer - the right support at the right time, will go a long way to getting us through this. Call 01723 850155
Elizabeth McPherson – Chief Officer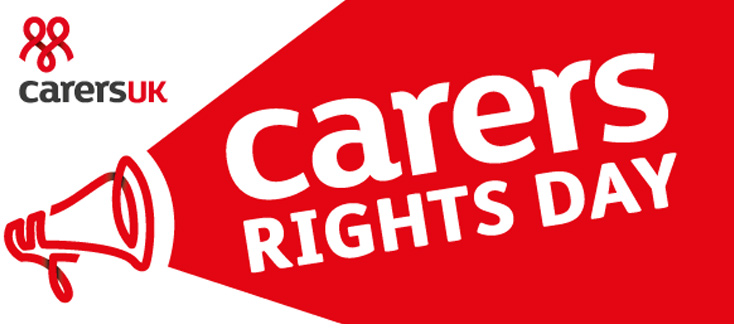 Carers Rights Day 2020
Urges carers to... 'Know Your Rights'
This Carers Rights Day (and everyday), Scarborough & Ryedale Carers Resource wishes to empower Carers so that they feel sufficiently confident to have the right information and support at their fingertips.
It is truly remarkable just what our local army of unpaid carers achieve every day. Gareth Howells (CEO of the Carers Trust) recently captured the spirit, determination and challenge facing unpaid Carers in an article he wrote for the Guardian (read the full Guardian article here... ) emphasising how family carers were keeping 'the fabric of society from tearing apart'.
A reminder to all: Unpaid Carers are the people who provide dedicated care for a family member or friend who are unable to look after themselves. Many carers provide that care round-the-clock, with little or no respite especially (but not exclusively) in recent times. A significant number will have had to give up or suspend their careers and as a consequence reduce dramatically their income in order to do so.
Unpaid carers have had to shoulder this financial burden, so much so that it is now estimated unpaid carers not the state, who provide the overwhelming majority of care in the community.
No wonder unpaid carers report feeling burnt out at times. Especially prevalent over the last 8 months where Covid-19 lockdowns and restrictions saw the temporary yet prolonged closure of most care services for their relatives and friends, meaning unpaid carers had to spend longer hours caring at home and with little or no respite.
In a year of uncertainty, the staggering key facts from the recent CarersUK report 'Caring Behind Closed Doors: six months on' (read the full report here) simply cannot go unheard
• 4 in 5 unpaid carers (81%) are currently providing more care than before lockdown
• More than three quarters (78%) or carers reported that the needs of the person they care for have increased recently
• Most carers (64%) have not been able to take any breaks in the last six months
• More than half (58%) of carers have seen their physical health impacted by caring through the pandemic, while 64% said their mental health has worsened.
• The value placed on this care is worth a staggering £132billion a year – that's almost equivalent to a second NHS!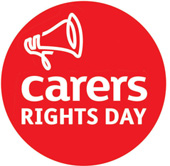 Scarborough & Ryedale Carers Resource pledges to continue to support and champion carers rights:
• We are privileged to support approximately 2000 unpaid carers each year - some with one-off pieces of support, some with longer term planning and support packages - but we are commitment to making every contact count and make a positive difference to the lives of our carers
• We are working in partnership with colleagues across Yorkshire & the Humber to create a 'Carers Champions' training programme to raise the profile of unpaid family carers and support 'champions' to be identified in shops, work places and public venues. An ambition to ensure more communities and individuals better understanding the impact caring has on our everyday lives and hopefully to encourage hidden carers to step forward for support.
• Our Business Plan underpins our ambitions; communicating our commitment to supporting unpaid carers. Our work aims to champion the local needs of unpaid carers.
• Our commitment to hosting a series of celebrations (when we can!) next year so that our 25th Anniversary (2020) was not forgotten to the virus. Watch out for 2021 and our determination to celebrate 25+1 years of supporting and providing of high-quality information and advice alongside respite, laughter and social connectedness for many thousands of unpaid family carers within our local communities.
• We have a proven track record of success and impact through our collaborative approach. We pledge never to stop working in partnership with others to ensure we bring the very best information, resources and support to our Carers
Our mission is to aspire to empower and give confidence to all those we support; to help them navigate their individual challenges and find a clear pathway through to a well-balanced life.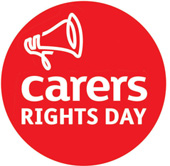 Carers Rights - Further Information
If you are caring for someone and want to know more about your rights follow this link to the CarersUK help and advice pages. (click here)
or contact Scarborough & Ryedale Carers Resource on:
Tel : 01723 850155
Email: staff@carersresource.net
Web: www.carersresource.net

Carers Rights - Useful Resources
Link to Care Act information on the Gov.uk website 
Link to Carers UK information about 'Looking After Someone'
Elizabeth and Alex's Sky Dive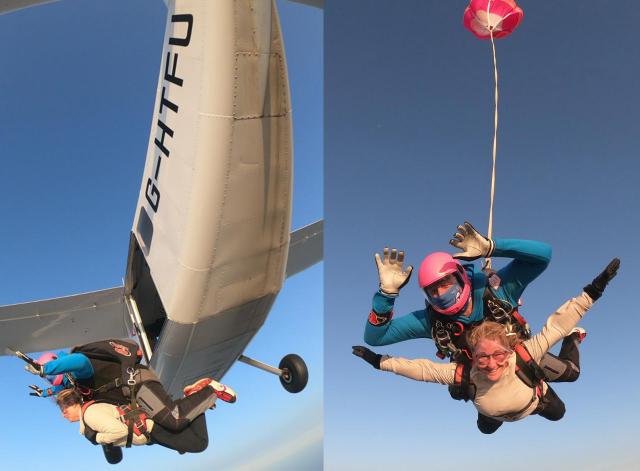 Elizabeth leaps into space!
It goes to show how passionate our Chief Officer is about Scarborough & Ryedale Carers Resource when she offers to throw herself out of a plane to raise awareness of carers issues.  Elizabeth and her niece Alex bravely took on the challenge of a tandem sky dive from 10,000 feet.
After two false starts – one due to lock-down, the second to too much wind (not Elizabeth's she assured us) – the day of reckoning came at last.  Alex was so excited she couldn't stop talking, Elizabeth so nervous she struggled to say anything!
Once in the plane there was no going back and up at 10,000 feet there's only one way down.  The instructors gave no time for last minute reservations, the door opened and they were out.  Watch the video here to share the excitement.  Wow – what an experience!  Who's up for another go?  Alex – definitely, Elizabeth – 'never again!'
Thanks to the brilliant staff at Skydive GB for their expertise, reassurance and professionalism. 
It's not too late to show your appreciation for this amazing achievement, please donate to Scarborough & Ryedale Carers Resource through JustGiving here.
https://justgiving.com/fundraising/elizabeth-mcpherson-alex-kent 
Watch Elizabeth's Skydive... 
and watch Alex's Skydive here... 
and some photos... 
Make a donation...
https://justgiving.com/fundraising/elizabeth-mcpherson-alex-kent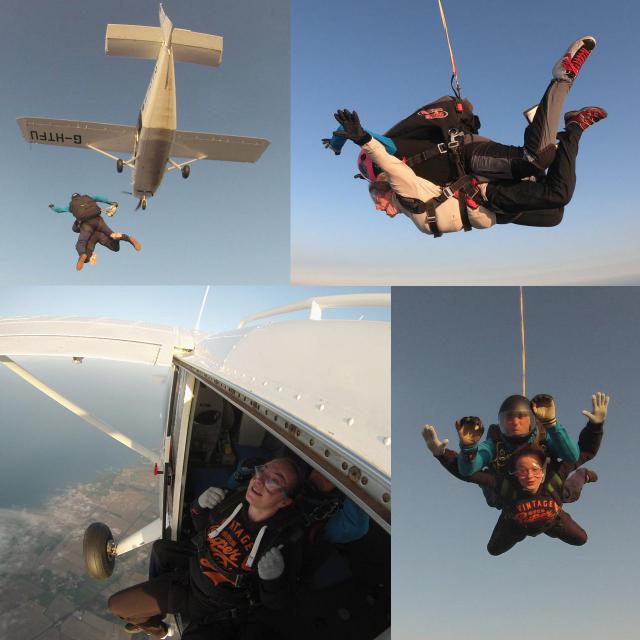 Clockwise: Taking the leap; Elizabeth and Alex
Make a donation...
https://justgiving.com/fundraising/elizabeth-mcpherson-alex-kent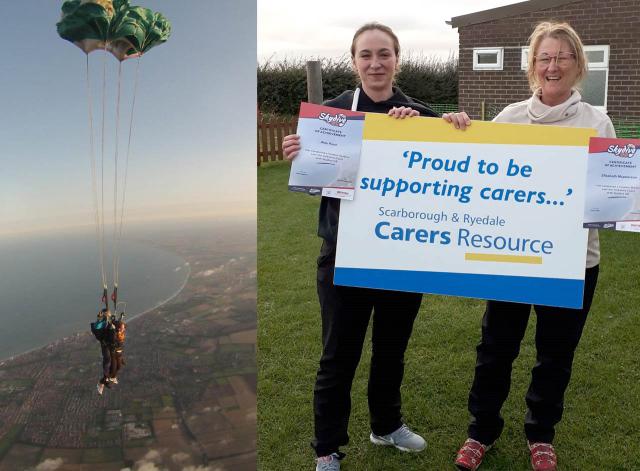 The very brave Alex and Elizabeth back on solid ground.
Make a donation...
https://justgiving.com/fundraising/elizabeth-mcpherson-alex-kent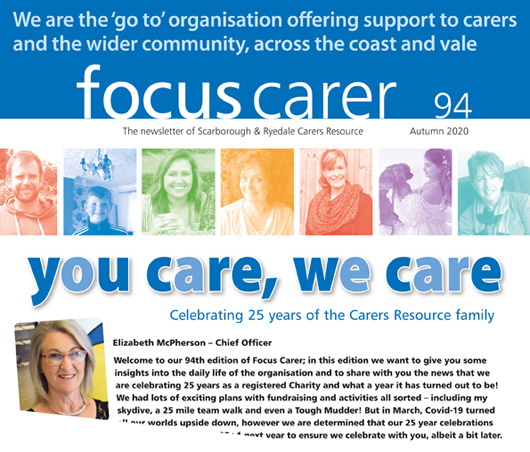 Focus Carer - Autumn 2020
Download a pdf copy of our Autumn 2020 Newsletter
Edition 94 of Focus Carer celebrates the 25th Anniversary of Scarborough and Ryedale Carers Resource. This 16 page magazine traces the organisation's journey from a portacabin in a Malton car park to it's current Snainton based offices with 6 services supplying support to carers of all ages as well as other social groups in need of assistance.
Focus Carer Autumn 2020.pdf (8.3MB)

Carers Week 2020 - Making Carers Visible
Monday 8th - Sunday 14th June, 2020
This year people in the UK are facing new challenges as a result of the coronavirus. Many are taking on more unpaid caring responsibilities for their relatives and friends who are disabled, ill and who are in need of support.
We are passionate that all carers are recognised and respected for the difficulties they are experiencing and are provided with information, support and understanding.  Take a look at these 2 video clips demonstrating the strength and dedication shown by carers everywhere
Other Events
My Neighbourhood Book Club - runs every 3 weeks online or by phone. The book being reviewed at the moment is The Librarian by Sally Vickers. Please contact Bernie if you would like to join us.
Working with Eastenders
SRCR were delighted to be part of the team advising on script development for the recent young carer's story line on EASTENDERS.  It was a privilege to be part of this work and a huge thanks must go to the 'Team Eastenders' for getting it right on screen, and raising the profile of the challenges young carers face.   Our work on this couldn't have come at a better time following the NHS announcements last week regarding the increased support for young carers through GP's surgeries.  Click the link below to read more. 
NHS sets out 'care for young carers'offer in GP surgeries 
Video: Yorkshire Coast Radio meets the Carers Resource team
Note: The autoplay attribute does not work on some mobile devices.
Scarborough & Ryedale Carers Resource is proud to be supporting and improving the lives of Carers 52 weeks a year, but on this special week, we are delighted the national spotlight is helping us raise awareness of the hidden army of carers who support their family and friends through challenging times.
Please take time to click on the video link above to meet our team - without them over 2500 carers per year across the Coast and Vale would not benefit from their support, knowledge and experience.
If you are a carer and would like to find out more - pick up the phone 01723 850155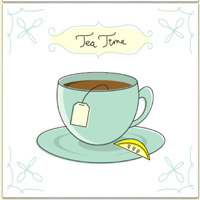 Carers Cuppa & Wellbeing Group
Drop in for a chat and a cuppa, share ideas of how to unwind. Time to rest and relax, have some quality time for yourself.  A Support Worker will be on hand to answer any questions.
Pickering Cuppa and Wellbeing Group
Venue: Friends Meeting House, Pickering
The Cuppa Club is usually the third Wednesday of every month from 10am-12noon
If you would like more information please contact the office on 01723 850155 
or e-mail staff@carersresource.net
---
Carers & Employment
How you can support carers in your work place or gaining employment. 
Carers and Employment Factsheet.pdf (349.3KB)
Focus Carer Newsletters
---
---