---
News & Information
---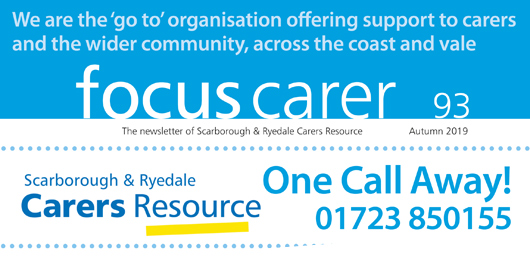 Focus Carer - Autumn 2019
Download a pdf copy of our Autumn 2019 Newsletter
This edition of Focus carer introduces and updates you on the services provided by Carers Resource to carers and others - the Adult Carer Service, Young Adult Carers and the Young Carers Service - Home from Hospital, Action Towards Inclusion and My Neighbourhood. Download a copy here.  
Focus Carer Autumn 2019.pdf (5.6MB)
AGM
You are invited to attend our AGM at 10am Wednesday 2nd October 2019.  The Street, 12 Lower Clark Street, Scarborough, YO12 7PW
We would love you to come along and meet the staff and Trustees, find out about all the services we offer and enjoy a breakfast butty on us.  The formal business meeting is very short!  
If you are thinking of coming please order your butty in advance, the choices are - bacon, sausage or egg.  Order by contacting us on 01723 850155 or email staff@carersresource.net
Breakfast & AGM invite.pdf (446.7KB)
Running for SRCR
John Suddaby is no ordinary Trustee for us at Scarborough & Ryedale Carers Resource - this weekend he will prove himself to be a super hero as he runs the Great North Run in support of the Charity.    
 
John's mum was diagnosed with Dementia in her late 70's, Scarborough & Ryedale Carers Resource was John's first port of call for help when he recognised he needed support with her care and getting the right people to help look after her.
 
John comments  'The support offered by the team was invaluable; having a full time job, meant trying to sort everything and knowing where to go was impossible to sort alone.  Two years ago I applied to become a trustee of SRCR to give something back - to help raise awareness of all the other carers looking after family members,  and to help promote the services this fantastic organisation has to offer'.
 
We wish John lots and lots of luck  - we are keeping our fingers crossed he runs and achieves a personal best  - and most of all comes back to us with a big smile on his face!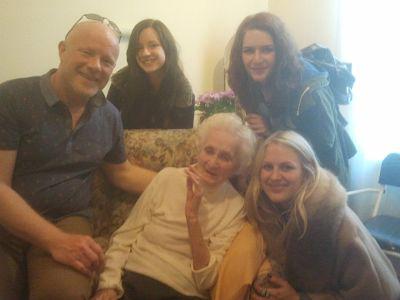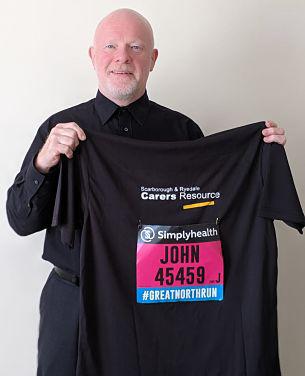 Working with Eastenders
SRCR were delighted to be part of the team advising on script development for the recent young carer's story line on EASTENDERS.  It was a privilege to be part of this work and a huge thanks must go to the 'Team Eastenders' for getting it right on screen, and raising the profile of the challenges young carers face.   Our work on this couldn't have come at a better time following the NHS announcements last week regarding the increased support for young carers through GP's surgeries.  Click the link below to read more. 
NHS sets out 'care for young carers'offer in GP surgeries 
Caring with Confidence is back!
Starting 27th June and every fortnight until the end of the year
These FREE sessions are for family carers to have some much needed time out of their busy caring role and focus on themselves.  Covering all sorts of subjects from a meal out and theatre trip to learning basic first aid or communicating effectively.  Click on the link below to check out subjects of the first sessions.  You can attend as many or as few as you like, but you must book a place.  Do do this please ring the office 01723 850155
 Leaflet CWC sessions 2019.pdf (365.5KB)
Video: Yorkshire Coast Radio meets the Carers Resource team
Note: The autoplay attribute does not work on some mobile devices.
Scarborough & Ryedale Carers Resource is proud to be supporting and improving the lives of Carers 52 weeks a year, but on this special week, we are delighted the national spotlight is helping us raise awareness of the hidden army of carers who support their family and friends through challenging times.
Please take time to click on the video link above to meet our team - without them over 2500 carers per year across the Coast and Vale would not benefit from their support, knowledge and experience.
If you are a carer and would like to find out more - pick up the phone 01723 850155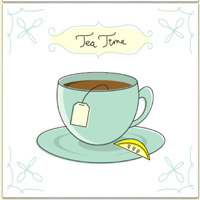 Carers Cuppa & Wellbeing Group
Drop in for a chat and a cuppa, share ideas of how to unwind. Time to rest and relax, have some quality time for yourself.  A Support Worker will be on hand to answer any questions.
Pickering Cuppa and Wellbeing Group
Venue: Friends Meeting House, Pickering
The Cuppa Club is usually the third Wednesday of every month from 10am-12noon
If you would like more information please contact the office on 01723 850155 
or e-mail staff@carersresource.net
---
Carers & Employment
How you can support carers in your work place or gaining employment. 
Carers and Employment Factsheet.pdf (349.3KB)
Focus Carer Newsletters
---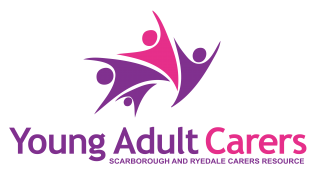 Steering Group Dates 2019
The Young Adult Carer Project is advised by a steering group made up of professionals from other organisations  
All meetings held 10.30 - 12 noon in the Boden Room, Stephen Joseph Theatre, Scarborough
20th September, 13th December
If you are an interested professional and would like to join us please contact David on 01723 850155 or david@carersresource.net
---
---