---
Covid-19 Information
---
Covid-19 
Information from NYCC regarding support for carers during this time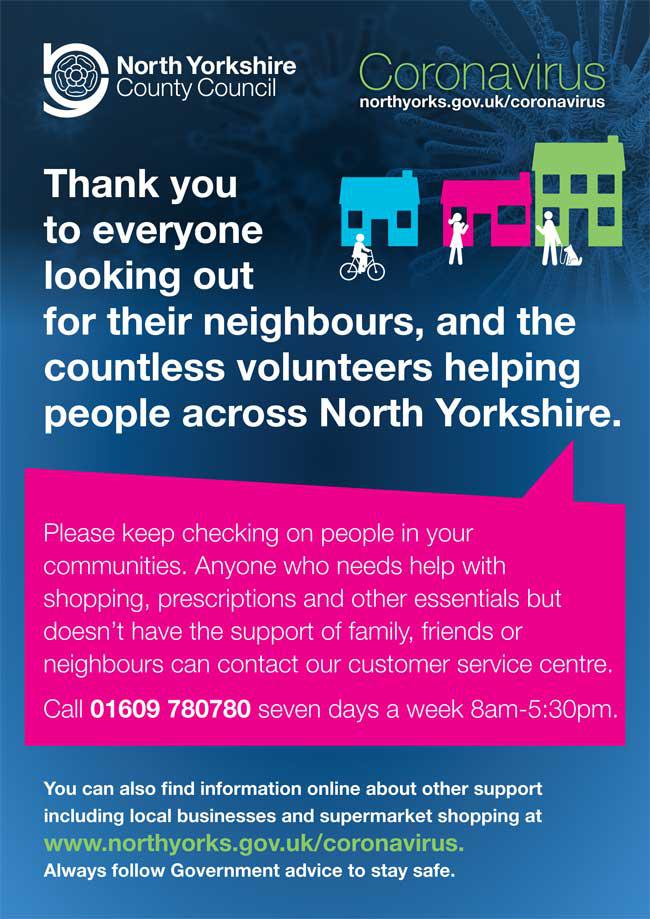 Supporting Carers
NYCC have issued these documents in relation to supporting carers through Covid-19.
NYCC Letter to Carers.pdf (201.1KB)
My_Coronavirus_Plan_B.docx (30.9KB)
Best_Practice_hand_wash.pdf (142KB)
Also useful - this guidance from central Government 
We are still open for referrals
Please call us on 01723 850155 or use one of these referral forms:
Initial Ref Form 18+.docx (34KB)
Initial Ref Form under 18 Young Carers.docx (34.5KB)
Please complete and return by email to staff@carersresource.net  
NYCC bring together a community response
Please see this information from NYCC regarding how they are coordinating volunteers to provide vital support in the local communities
NYCC Community Support.doc (691KB)
Update 24th March 2020
We are continuing to work hard to support as many of our service users as we can – staff are now working from home and contacting everyone individually by telephone to check how you are and if we can offer any more support.  We know emotional support is needed at this time now more than ever since we have to all self- isolate at home.   It can be a very lonely and worrying time, we are here to help you, so pick up the phone and contact us on 01723 850155 or send an email to staff@carersresource.net 

To any organisations that want to refer a young carer or adult carer or other vulnerable service user into our services we have changed our referral forms to make them as easy as possible to use please see the link to the forms. 
Initial Ref Form 18+.docx (34KB)
Initial Ref Form under 18 Young Carers.docx (34.5KB)
Message from the Chief Officer and Chair of Trustees                    17th March 2020
We are writing to you all regarding the current situation with the spread of Covid-19, we know this will and is causing concerns for yourselves and the persons you care for and for those living on their own.
 
SRCR will continue to provide on-going support for all our service-users over these challenging times.  Please be assured our office will remain open for telephone contact only by a small skeleton staff team, so we are always at the end of the phone.    We will be in regular telephone contact with our existing service-users, to help address immediate issues and offering emotional support over the coming weeks/months.
 
We will continue to accept all referrals - whilst we will not be able to undertake home visits or meet in our outreach provision, please be assured our staff are highly skilled and experienced in offering 'helplines'/support over the phone.  We already provide this service and it has been an exceptionally successful provision tried and tested in our daily work routines. 
 
We are looking at ways to continue to support patients discharged from hospitals through our Home from Hospital services to ensure we keep people safe and well, and they have the provisions they need once they get home.
 
SRCR's main priority is to stay in contact with our service users, especially if you need to keep yourself isolated at home.
 
We will be in contact with all service-users, partners and funders on a regular basis to ensure we keep everyone updated, informed and most importantly supported to the very best of our ability. 
 
Please stay safe and contact us, we are here to help 01723850155 or staff@carersresource.net
 
Elizabeth McPherson              Michael Hunt
Chief Officer                          Chair of Trustees  
All groups cancelled
Please note all our groups and activities are cancelled for the foreseeable future
Please keep an eye on this website and our social media pages for updates
Our support workers are working hard to provide telephone support as much as possible.  Please see the above notice from our Chief Officer and Chair of Trustees 
---