---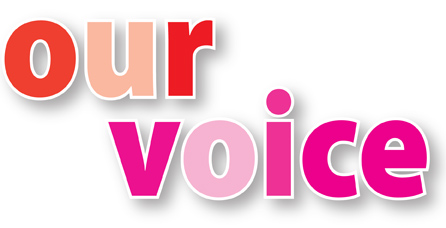 Welcome to the 'Our Voice' zone
As a Young Carer your ideas are important and here is a good place to hear your voice. We also have a blog zone, where we can all share ideas. Take a look!
Young Carers - Q & A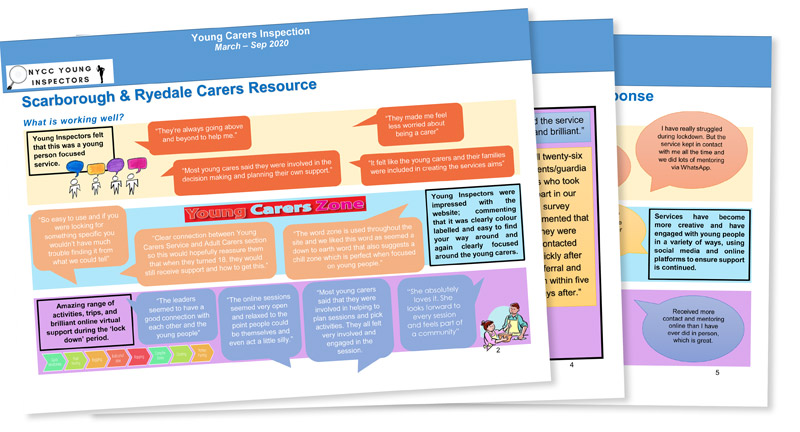 How did we do? NYCC Young Inspectors take a look at our Young Carers Service
NYCC Young Inspectors recently paid us a visit to take a look at the range and quality of activities and services we provide to Young Carers. Now we have their report and you can download a copy here and take a look.
The Young Inspectors wanted to discover what we were doing that was working well, what challenges we might have and also what could be improved. With the help of some useful contributions of ideas and opinions from young carers and their parents they came up with their final report, which... we're quite proud of!
But not so proud that we can't improve our service! And so we'll be working hard in the coming year to make our Young Carers Service even better than it is now. If you have any ideas that you think would help to make us better, to offer you a better service, then let us hear them. Shout out loud (by email) to Rachel.
And lets not forget all the hard work and enthusiasm that you have contributed to all our projects. Well done everyone!
Download a copy of the NYCC Young Inspectors Report here.
Young Carers - Poetry

This YouTube video features the poetry of Jacob Wallace a Young Carer who, in the Summer, took part in a rap workshop and produced this stunning piece of spoken word.
You can find these poems to read a little further down this page.
View the video here or find it on YouTube at: https://www.youtube.com/watch?v=95A3pWN0x8g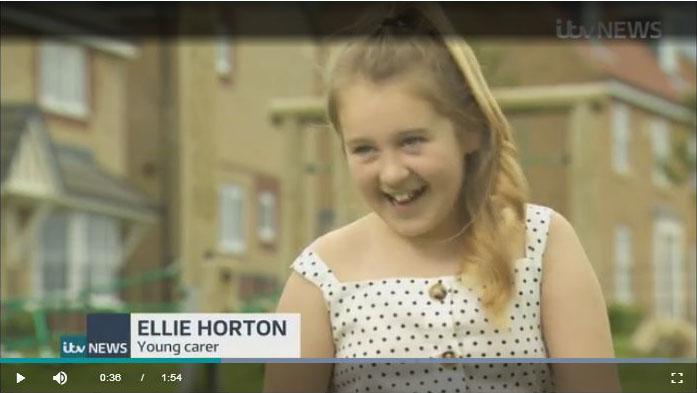 Young Carer Ellie is interviewed by ITV News
A recent news broadcast on ITV News featured an interview with one of our amazing young carers Ellie. The feature followed up a Carers Trust survey which studied the impact of the coronavirus on Young Carers. (See the video by clicking here or on the photo).
Ellie is a remarkable young girl who works very hard to help to support her mother and her two younger siblings. She is supported by Scarborough & Ryedale Carers Resource, and her grandmother offered us this lovely tribute following the airing of the feature,
"You are unsung heroes for the kids, and you should be very proud. I know Ellie is luckier than some, as she has us, but she can say things to you, without worrying that you will get upset. You do an amazing job and we are really thankful. If you hadn't have come along when you did, I don't know how her mental health would have been, thank you."
But most of most importance, thank you Ellie, for being such a star.
View Ellie's news report by clicking here...
Read about the Carers Trust survey and report here...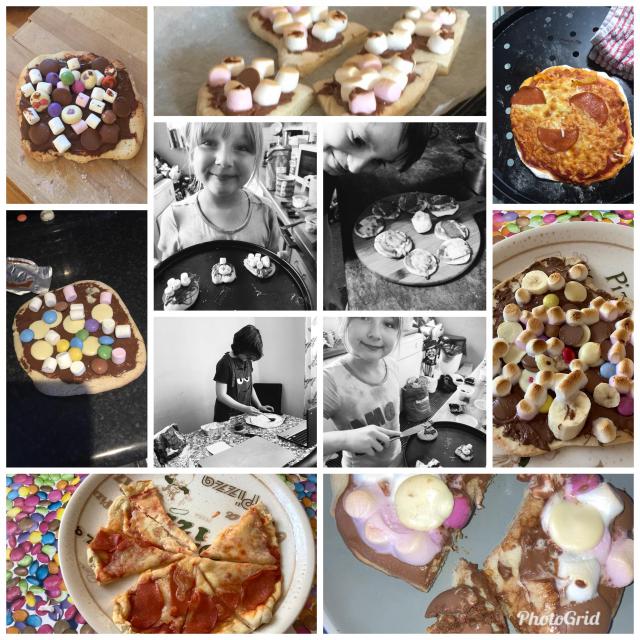 Pizza Delights - Sweet or Sour!
The Young Carers welcomed Chris Layfield (NYCC Youth Voice and Creative Engagement Officer) and his team of Young Inspectors to our cooking session on Thursday 25th June. The dish of choice was pizza's, but the question was sweet or savoury?
The decision split the group, so take a look at some of the creations. Over 20 young carers joined us on zoom to have some cooking fun, whilst chatting to the Young Inspectors about how they gain support from the service and what type of things they have got up to with the team during lockdown. It was a fantastic session, and a chance for us to connect with each other whilst devouring our pizza delights.
It's a Rap!
We came together for an amazing Rapping session with the very talented James Coppert and here are two raps, created by young carers.
Rap 1 - Young Carers
Being a young carer, its difficult at times

Sometimes, it feels like life can be unkind

So tired, I just want to get into bed

Feels like I've got a storm brewing in my head

Isolated, like trapped in a small cell

They don't understand, feels like I can't tell

So how do we deal with these feelings inside

I feel like I lost my pride, so I cried

Young Carers, shared experience we can talk

Together, on the same path we have walked

Off my shoulders, the world has been lifted

A lighter load to my life has been gifted

New opportunities to distract my mind

Feels like I am no longer left behind

Had new experiences, met new people

We are all a family all treated equal


Rap 2 – Young Carers and Young Adult Carers

I feel proud as a lion, head held high

Feel like I'm soaring, the limits the sky

I can never give up, got to stand strong

Can't give up now, that would be wrong

Overwhelmed, sometimes doubt my ability

Infinity responsibility an impossibility

Feeling useless, hopeless, losing ourselves

Like at the bottom of a well we delved

But Carers Resource have given us hope

Helped us up from the bottom by pulling up the rope

Walking hand to hand standing face to face

We have now found a true safe space

Carers being cared for and listened to

Distractions and lots of fun things to do

So can I just say a big thank you

For helping us along with the job that we do.
Words for Carers Week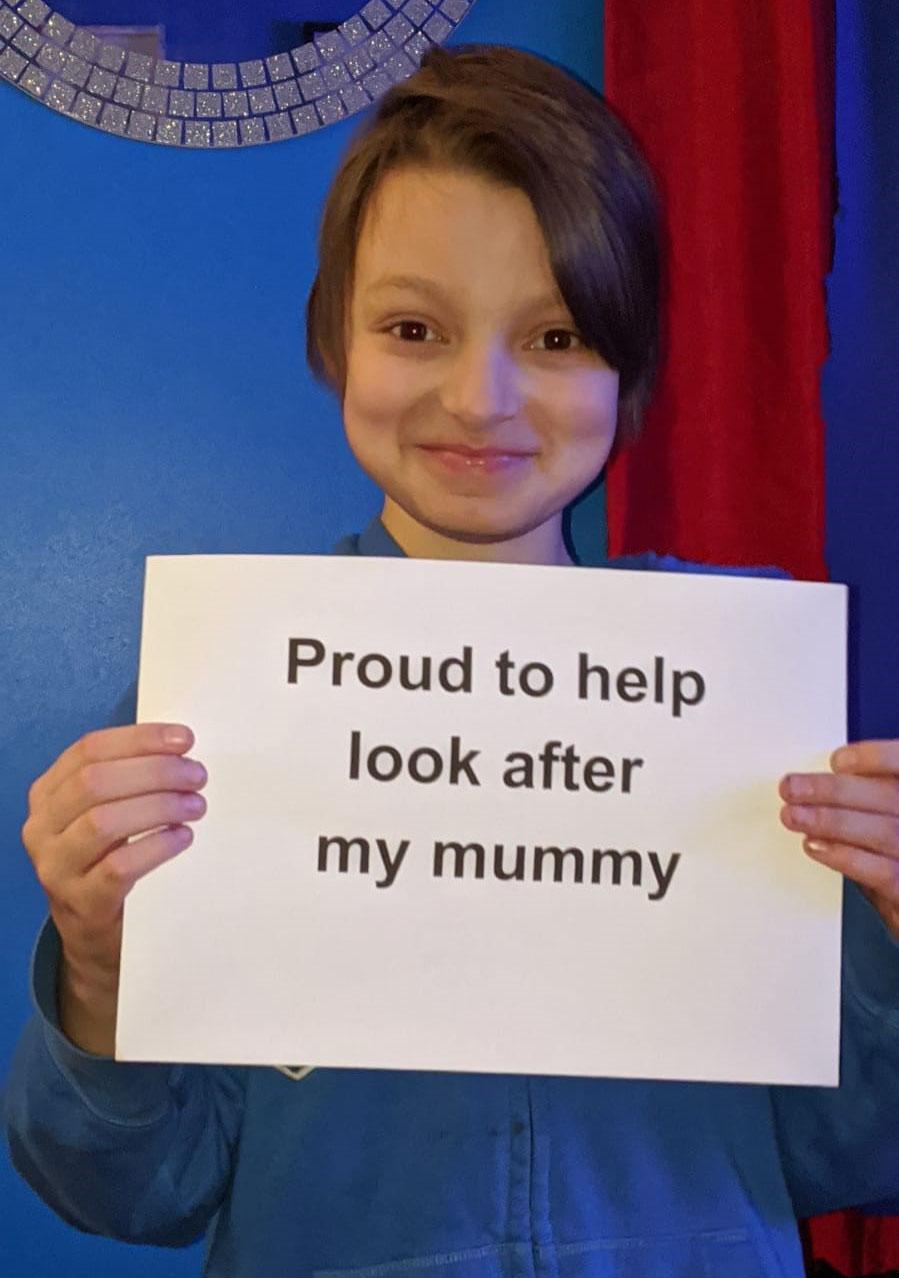 Oliver's Carers Week message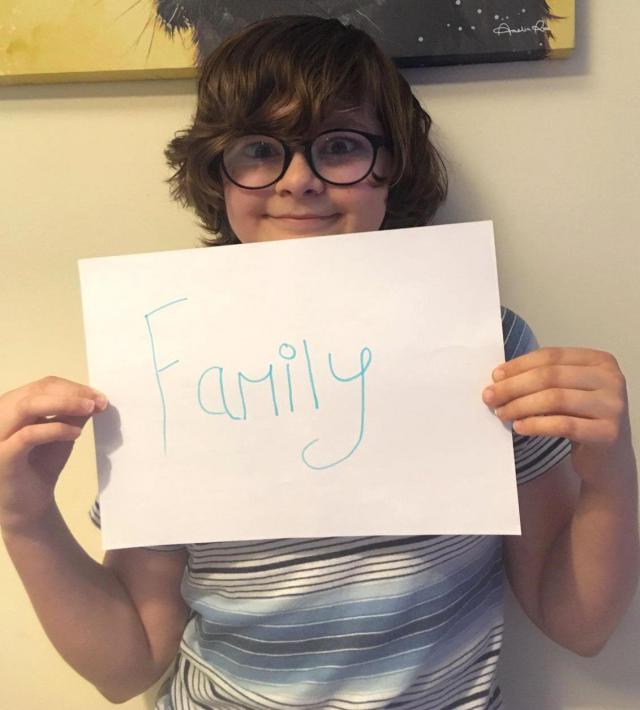 A Carers Week thought from Leo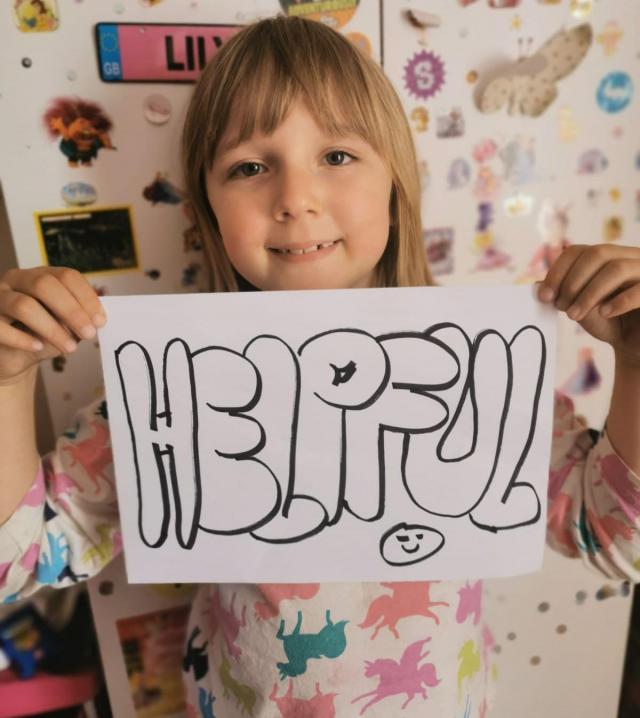 Aggie's Carers Week word
#wecare - A video made by Young Carers
Young Carers from the Scarborough and Ryedale area have come together to produce this video which explores and explains the role of caring for a young person needing to balance a caring life at home with school and all the other activities wrapped up in a personal life.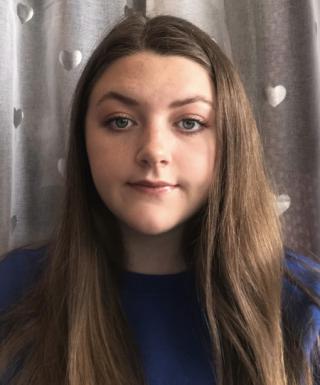 Being a part of Young Carers and the Youth Council - and finding that our voice matters
Annie Matthews
Through Young Carers and the Youth Council I have participated in a range of enjoyable and enlightening activities and events such as fundraisers, presentations, a trip to London, a residential to Hull University, meetings with teachers, creating workshops for development days and much more.
From being involved with the Young Carers Service I have been able to overcome moments of depression, anxiety and loneliness with the caring help of both members and staff. They have encouraged me to not only accept my role as a Young Carer but to wear it with pride and confidence. I have met so many amazing people and made loads of wonderful friends through the service that I'm so thankful for.
 
The Young Carers Service understands that in order to make it a successful and helpful resource they need to include the opinions of the young people involved. The young persons voice is the most important thing to consider, as they can empathise with every other Young Carer in some way when adults and staff can't. Through this the young people encourage the service to improve and develop, which not only positively effects all those involved but anyone who has heard their message or seen their good work.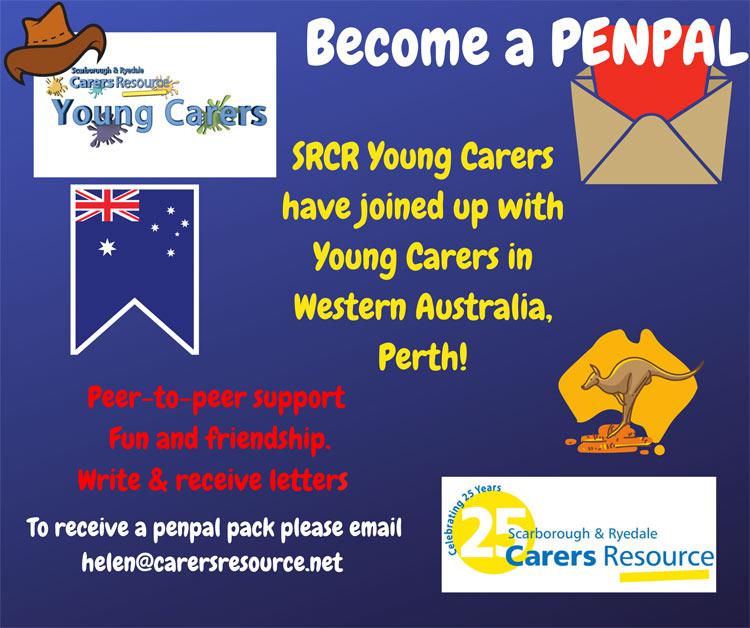 Hello Australia! Let's make new friends!
Join our exciting Pen Pal project.
We are really excited about the launch of a Pen Pals Program between Scarborough & Ryedale Young Carers Service and Young Carers Western Australia based in Perth.
Our new Pen Pal Program aims to help young carers build and nurture friendships as well as having the enjoyment of writing and receiving letters in the post! Our Pen Pals are matched according to their similarities as expressed on your Expression of Interest form, (download a copy here).
The Pen Pal Program helps to create peer-to-peer support for young carers while having fun and friendship. We hope the young carer's Pen Pal Program will be a place where we can  have a friend to turn to – whether experiencing difficulties at school, or are worried about feeling "different" from our non-carer friends. We want to learn about what other young carers like to do, and get to know what life is like as a young carer in Australia.
Download a copy of the 'expression of interest form', fill it in and return it to: helen@carersresource.net
Expression of interest form PPals.pdf (143KB)
---