---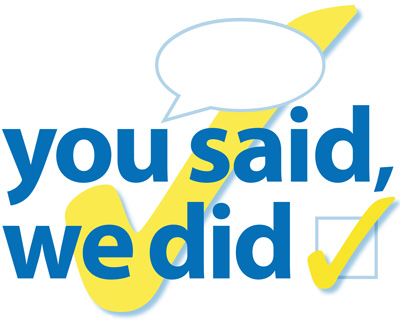 ---
We value your feedback to ensure that we are providing the highest quality service possible and will address any concerns or suggestions for improvement. Here is what you have said so far from our last client surveys and recent client evaluations.
If you would like to offer feedback or ideas please contact us on 01723 850155, or by email: admin@carersplus.net
You Said...
"There is a need to make doctors more aware of the help available from Carers Resource."
We Did!
We offer talks in all GP surgeries to bring staff up to date but understand it's a busy setting so we are also speaking with surgery staff members individually to help raise more awareness regarding our support.
You Said...
"The lady on the helpline really helped me, it would be better if this was available every day…"
We Did!
We have considered staffing and adapted the way we work, so we are able to provide more cover on our helpline service.
You Said...
"This service is amazing when I found it, you do so much and not just support for carers…"
We Did!
To help ensure a clearer message regarding all the different services we have within Carers Resource, we have created One Call Away literature giving basic information about everything we can support with.
You Said...
"Just wish I had known about Carers Resource sooner…"
We Did!
We have started to look at different ways of raising our profile across Scarborough, Whitby and Ryedale especially to help find hidden carers – those who may not always see themselves as carers.
2020 Annual Client Survey results
We are just in the process of gathering our latest survey results but so far out of the responses, 100% of clients that have accessed the survey have said that: yes, our support has made a difference to them and yes, they would use the service again or recommend it to others.
.

---