---
North Yorkshire County Council
News for Carers
---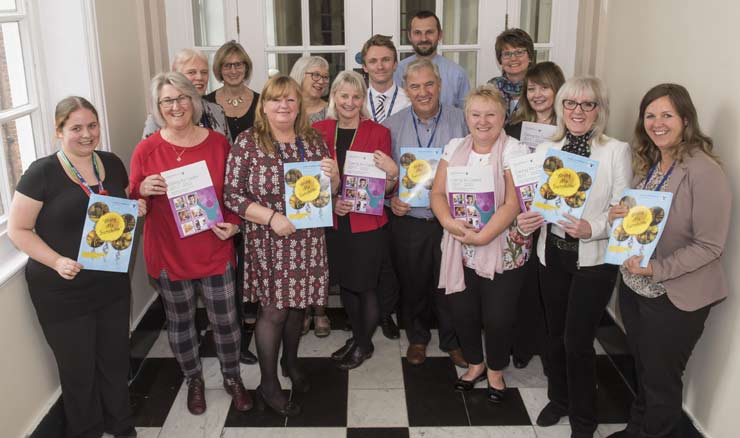 Two new Strategies launched for North Yorkshire
Carers and people with dementia and their relatives have joined North Yorkshire County Council, the NHS and voluntary sector launch strategies to improve the lives of carers and those living with dementia.
Carers Resource has been involved in developing the new Carers Strategy 2017-2022, pushing for issues faced by our carers to be included in the document. Our Chief Officer, Elizabeth McPherson spoke at the launch event and we were also very proud that the Young Carers #wecare video was used to demonstrate particular issues faced by Young Carers.
At least 65,000 people are carers in North Yorkshire and the county also is home to 10,000 people living with dementia.
The North Yorkshire Health and Wellbeing Board worked with people to create strategies which take account of current services, local success stories and which identify future improvements.
"Caring for Carers" North Yorkshire's new carers strategy is aimed at supporting carers to both continue caring and to have a life of their own.
Three in five people will be a carer at some point in their lives and almost everyone will know a family member, friend or colleague who is currently a carer. The strategy brings together the insight and experience of North Yorkshire carers, combined with health and social care professionals. It focuses on priorities for improvement that will make a real and valuable difference to the lives of carers in the county.
Download a copy of the Carers Strategy, "Caring for Carers 2017 - 2022" (pdf)
Download a copy of the Dementia Strategy Summary, "Bring me Sunshine - Living Well With Dementia in North Yorkshire" (pdf)
Carers Emergency Card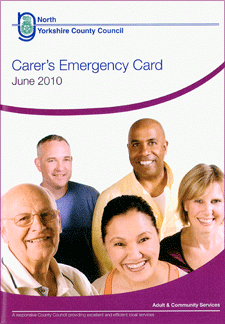 The carer's emergency card is a plastic card, the size of a credit card, which will identify you as a carer if you have an accident or are unable to identify yourself. The card scheme is simple and easy to use and has been successful in ensuring help is available quickly when it is needed. Furthermore, the card and the service covering a 72-hour period are free.
Request a free copy of this booklet from Carers Resource [here]
Link to the NYCC page 'Carers emergency card' [here]
---
Telecare - how could it help me?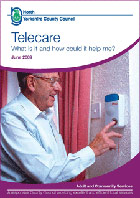 Telecare uses a range of sensors, matched to your individual needs to assist you to live at home, if you are vulnerable and need support. The sensors can be linked to a lifeline (a kind of telephone) that is used to summon help if required. Using Telecare can improve and maintain wellbeing; enabling you to live safely and securely at home.
Request a free copy of this booklet from Carers Resource [here]
---