---
Young Carers - Youth Council
---
Beth - our Lion's Young Ambassador
Update from the National Finals
We are delighted and proud to celebrate with Bethany Rowe following a successful weekend away at the national finals of the Lion's Young Ambassadors Awards.  All 12 Young Ambassador finalists from around the county, spoke passionately about their individual projects and charities; arriving as strangers and leaving as firm friends.      
In early January Beth won the hearts of the judges at the regional finals, talking about her personal journey, her passion for supporting other young carers, and her commitment to promoting the #wecare campaign.     This weekend saw Beth delivering her message and ambition on a national stage.  Coming a close second to the winner, Beth was just thrilled to have secured £550 for the Young Carers service across Scarborough and Ryedale as well as the Lions 'Ship Shape' award; a sponsored week crewing on a tall ship, generously facilitated by the Jubilee Sailing Trust.   
We could not be more proud of Beth; her work as the chair of the Young Carers Youth Council is going from strength to strength. She is not only providing the Youth Council with guidance and leadership, but also helping many young carers on a 1-2-1 basis feel more empowered and confident to balance their caring responsibilities with everyday life. 
Great work Beth  - long may you go on to inspire others and of course succeed in your GCSE's this year!  
Local Young Carer Beth has won the position of Lions Ambassador for the North and Scotland District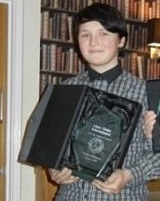 Recently one of our Young Carers went to the regional finals of the Lion's Young Ambassador. The aim of the scheme, which operates throughout Europe, is to recognise, encourage and support young people who are actively involved in the welfare of their community.  Beth is a key member of the Young Carers Youth Council, and is heavily involved in the #wecare campaign, designed and developed by the Youth Council to educate audiences on the challenges and support needs of young carers.  The regional finals day involved a formal interview with Lions members where Beth talked about the work of the Youth Council and the difference it is making.  She obviously impressed the interview panel as she won the position of Lion's Young Ambassador for the region.
 
Beth will receive a personal cash reward as well as £500 towards her work within the Youth Council – this funding will help the Youth Council develop new marketing materials and events to promote the campaign.
 
This has been a tough competition to win; there are lots of really impressive young people across the region (The North and Scotland) who passionately campaign, support, work within their community, but on the day Beth's commitment and determination stood out.  Beth will now go on to the National Finals in February – fingers crossed and         Well Done Beth!
#wecare launch - SJT rolls out the red carpet for Young Carers
An information video about and for Young Carers
Thursday evening (November 9th) saw an exciting and special event take place at Scarborough's Stephen Joseph Theatre when Scarborough & Ryedale Carers Resource was joined by over 80 friends, partners and family members together with members of the Young Carers Youth Council to celebrate the launch of their new video #wecare.
The video was conceived and produced by the Council's members to raise awareness and provide information about the many Young Carers who carry out such a valuable but often unsung role in our society. We were all very proud of our Young Carers Youth Council and their efforts to extend the impact of their #wecare campaign.
"In September 2016 a strong and confident body of young carers came together to form our Youth Council. Their mission was simple: they wanted to make life easier and fairer for young carers in the future; they wanted to educate adults; they wanted to improve school life and school experiences. With the help of this film they hope to make even more adults think before applying the standard rules and to make them think 'sometimes young people have reasons'..."
Take a look at the video 
Find out more about Young Carers and the Young Carers Service... it's here!
Or for more information contact Carers Resource by phone: 01723 850155, or by email: email: staff@carersresource.net


Young Carers Youth Council - The Beginning
Over the last 6 months the Young Carers Youth Council (YCYC) has worked hard to establish itself and clarify it's membership, remit and purpose.  The members are now confident to confirm the following statement:
'The development of a Young Carers Council is in line with the promotion of a number of other youth councils actively encouraged by NYCC to promote the Voice, Influence and Participation (VIP) of young people across North Yorkshire.  
In the establishment of our Young Carers Council, our ambition is to ensure we have an opportunity through which Scarborough and Ryedale Young Carers can:
Raise awareness

Promote and Advocate

Influence policy, funding and decision makers

Increase wider knowledge and understanding

Encourage listening and sharing

Support each other

Empower other Young Carers to engage'
In the first instance the Council has set some clear goals for year one (subject to funding opportunities)
Learn more about voice and representation - how it works and how to do it well

Experience and learn from established 'councils' at all levels through visits and 'interviews' (including local, regional and national government structures)

Develop, launch and deliver a strong #WeCare education programme, initially to school professionals and audiences.
Our ambitions are supported by the team at Scarborough & Ryedale Carers Resource but we recognise we will need funding to support the professionalism and ambition developing within our Youth Council's objectives.  Supported already through NYCC as one of a number of developing councils, we aim to develop a young person-led programme that may act as a template for other Young Carer Councils across North Yorkshire and/or wider. As 'users' or 'customers' of the current support systems available to us, we recognise that not all of the strategic plans have been put into place and that the dissemination of the NYCC ambitions (especially for young people in schools) needs significant reinvigorating (words inspired by our local MP in his letters to NYCC) - our ambition is to ensure we support NYCC with a bottom-up approach to helping relay key learning, understanding and accurate messages.
If you wish to learn more about the Young Carers Youth Council - either to meet the Council or to join it (if you're a Young Carer!), please contact Claire Robinson at Scarborough & Ryedale Carers Resource 01723 850155 claire.robinson@carersresource.net
Young Carer Council meet MP
Robert Goodwill was visited by the Young Carers Youth Council - his support to raise awareness will be much appreciated  - the Young Carers were brilliant and hammered home their ambition to increase the Voice, Influence and participation of Young Carers.
---